This is a non-sponsored post.  All opinions and photographs are my own.
If you're ever in the Albuquerque area, with a few hours to kill–have I got a suggestion for you! I would suggest checking out the village of Corrales. They have growers' markets, art festivals and tours and a definite small town vibe; on top of all that, they have wineries that make and serve New Mexico Wine.
Stop & Smell the Bouquet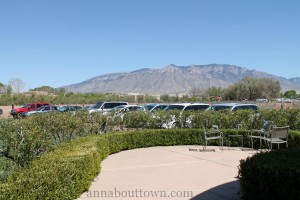 One of my new "regular" stops in the village is the Corrales Winery. This winery sits on a beautiful spot, with gorgeous views of Sandia Peak from inside the tasting room and outside on the grounds–where they also hold events.
They have a small, but delicious variety of wines; all from New Mexico wine grapes. If you do stop here and find a wine you like, my advice is to buy, buy, buy–they sell out quickly and are only available from the Corrales Winery itself.
Off the Beaten Path
The rest of my afternoon was spent driving along the Corrales Wine Loop; but when I reached the Acequia Vineyards & Winery, I knew I had to stop for a while.
Mel Knight was pouring a selection of their wines–mostly whites, but included a delicious Rose and a full-bodied Zinfandel (both of which are now in my wine closet). To say that his tasting room is in his garage, just doesn't do justice to the homey, comfortable atmosphere of the place. There's also a great little patio where you can enjoy the quiet solitude of his neighborhood.
Wine Around Town
If you do get to Corrales with some spare time, be sure to check out the Corrales Wine Loop. It lists a couple of wineries in the area (that are on my to-do list), plus you can pull up more if you search the internet for wine and wineries in the Albuquerque area. If you do get to one of the other wineries in the area, please let me know what you think.
I've driven through Corrales many times over the years; always telling my Dad that when I was rich and famous, I'd be moving here; and taking the Corrales Wine Loop is just another reason to go, visit and stay.
I'll be back to this beautiful area of the country on a regular basis and hope to gather more information which I'll be happy to share with you all!