Been shopping at Target lately?  I hadn't; but when I heard they were starting a new Beauty Concierge service, I ran down there as fast as I could!
In an effort to help women find the best products for their hair and skin, the Target Beauty Concierge will work with Target shoppers to provide personalized and unbiased information about the kinds of products that would best suit their needs.  These concierges are highly trained beauty specialists, who are familiar with all the beauty and hair care brands carried by Target.
Speaking of Brands
Are you a regular shopper in the beauty and hair care aisles at your local Target?  It's been a while since I've shopped there at Target; and I guess I've been missing the boat!  Not only do they have Cover Girl, Maybelline and L'Oreal, they also carry JK Jemma Kidd, Pixi and Sonia Kashuk, among some of their beauty brands.  Their skin care lines include Neutrogena, Oil of Olay, Boots, Burt's Bee's and even a couple of organic lines.  Target even carries some great hair care brands, including Pantene, Bed Head and Bumble & Bumble.
Target Beauty Concierge to the Rescue!
With so many brands on the shelves, how do you choose a new product to address your specific beauty issues?  Do you just go with your old stand-by, or are you looking for a new product or solution to a new problem?
I got the low-down from my local Beauty Concierge–Richelle Bonilla, at the Target in La Habra, California. The concierges are employed by a company, separate from Target; so they are able to maintain a "brand-agnostic" approach to solving your skin care, hair care or other beauty issues.
Although they don't take appointments, you can find the sign in the beauty aisle that will post their available hours at each location; and the concierges are equipped with an IPad to instantly see whether the products you need or are looking for are in stock at that or another store.
Give the Target Concierge a Try
So the next time you find yourself wandering the beauty aisles in Target; look for the Target Concierge in the black apron.  Chances are, they will be there helping another shopper out with their make up,skin care or hair care dilemmas; and they'll be happy to answer your questions too!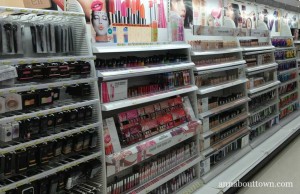 If you've been there, let me know what you think of this personalized service in the comment section below.  I'd love to hear from you.