As part of the #LLBlogNotaConf FAM trip, Ann About Town attended a reception with contemporary artist, Patricia Qualls at her studio. Please note that all photos and opinions are my own.
I have always had a love of art, and of spending time in art galleries. So it was very exciting for me to attend a private reception at the Patricia Qualls art studio in Carmel Valley, California, with the artist herself.
Driving through the Carmel Valley to get to there, I couldn't help but imagine how much inspiration the area gives to those who live here. The rolling countryside, farms, small shops and beautiful homes, inns and hotels all create an atmosphere of beauty and inspiration that makes me want to write a novel, paint a masterpiece and cook a fantastic meal!
Patricia Qualls Art
Although Patricia Qualls didn't start out as a full-time artist, she always kept painting close to her heart. Even while working, first as a stock broker and then a clinical psychologist, she made time for her artistic dreams. Qualls made a list of artistic endeavors she wanted to try, hoping to find something that could become a hobby, an outlet for her creativity.
Painting was first on her list; and when you see Patricia Qualls art and speak with her about it–you'll see that her hobby has turned into her passion. And as her clinical psychology patients moved on, she chose to focus more on her passion for art, becoming a full-time painter and artist.
Art is a spiritual inturning for me; helping me to find clarity-Patricia Qualls #artist #LLBlogNotaConf
Click To Tweet
A very moving moment for me was when Qualls asked each of us to go stand in front of a painting that spoke to us. Then she asked each of us to tell her what we felt standing there looking at our choices.
Instinctive Painting
I had a hard time deciding which one spoke to me the most; they all had something to say to me. The painting I ended up at is this one (above); and when I look at it–even just this picture of it–I feel passion and love and joy bubbling up inside of me.
When asked what kind of music she listens to while painting, Qualls said that she mostly paints in silence; that she is inspired more by her own emotions and by events going on around her than by listening to music.
"It's interesting, the deep listening we have to do and the turning off of things–to focus." While Patricia Qualls art may be considered expressionistic, she describes it as "instinctive painting."
Some of us followed Qualls upstairs to another part of her studio, where she keeps more of her art and installations stored.
Many of the pieces are from her installation "Dignity of Differences." Again, they were all moving and inspiring to me. The story behind the one on the left titled "School Prayer" brought me close to tears. Each of these prayers were written by school children.
Isn't that what art should do? Move us? Help us to understand and appreciate others, their lives and their struggles?
We are Beacons to Shine a Light
Another thing that Qualls said really struck a chord with me. "We all have such an opportunity to have a voice; we haven't gotten to the place where there's quiet yet. The wordsmiths and the artists of the world are the beacons to shine a light on things that need to be seen."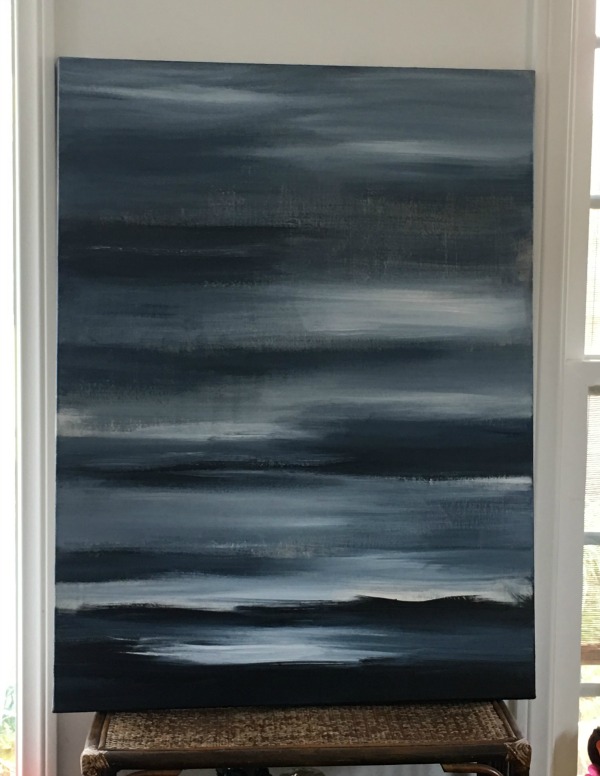 Peaceful Night
This last painting is a little different. You see, it's in a new home–mine. I fell in love with the colors, the motion, and the feelings that looking at Peaceful Night stirred in me.
Patricia Qualls' Art can be found in an international collection in Switzerland, and national collections in across the country. Her work is also part of the George Blair permanent collection at the Crocker Art Museum in Sacramento.
You can find more information on her website here. Patricia Qualls Art is also on Facebook, Twitter and Instagram.