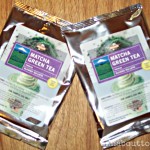 I have always fancied myself something of a kitchen chemist–taking recipes and making adjustments and tweaks, and (hopefully) improvements.  Unfortunately, time has become a premium commodity for me; and one of the first things I seem to have lost is my ability to "play" in the kitchen.
So you can only imagine my happiness at discovering a wealth of contests and blog hops related to recipes, food and all-around "playing" with kitchen appliances and food!  Enter 5 Minutes for Mom and their Mocha Matcha Green Tea Lovers Blendtec Blender Giveaway (how's that for a mouthful?)
So here's my entry for the contest–something super easy, quick to make and delicious!   If you get a chance to make these yourself, please leave me a comment and let me know what you think!

Mocafe Matcha Green Tea Cupcakes
Prep time:
Cook time:
Total time:
Ingredients
1 envelope of Matcha Green Tea Latte mix
1 box of white cake mix
2 eggs
1 cup of milk
½ cup (1 stick) of unsalted butter, melted
1 carton of heavy whipping cream
5 teaspoons of sugar
½ teaspoon of vanilla
½ package of Mocafe Matcha Green Tea Latte mix
Raspberries for garnish
Instructions
For the Cupcakes:
Put the cake mix and the Green Tea Latte mix into a medium or large batter bowl; mix the eggs, milk and butter together in a separate bowl or measuring cup. Add the liquid mixture to the dry ingredients and blend together until mixture is smooth.
In a muffin tin with paper liners, fill each cup ⅔ full; bake at 350 for 16 minutes (or insert a toothpick into the center and it comes out clean). Remove from oven and allow to cool completely before frosting.
For the Frosting
Mix cream, sugar, vanilla and Latte mix in a bowl with electric beaters until stiff peaks form. Frost cooled cupcakes and garnish with fruit.
I hope you give this recipe a try.  I ended up with extra batter so I even made up some Green Tea Latte mini-loaves, which I took with me to the Corner Bakery for a relaxing mid-morning snack with my Latte.