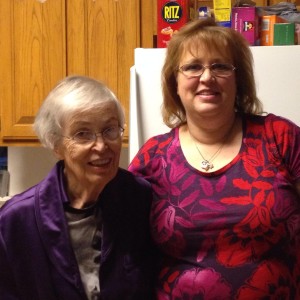 Holidays are a time for family and friends; a time to make memories and think back on the past;and that's what I'm doing here. Last year, I spent most of  December tending to my dying father in New Mexico. This year my focus has shifted to my mother living in Texas.
Mom has received a terrible diagnosis from her doctor; not in the sense that she's done something wrong, only that she has become ill and the prognosis is not good. I know that I'm luckier than a lot of people in that my mother is still around, still fighting the good fight, and that I can talk to her on the phone (when she's feeling strong enough); but it doesn't change my feeling that my mom is slipping away and that I can't help her.
Looking Back
As many people do this time of year, I've been looking back and thinking about the past–some of these memories of my childhood, as a teen and even just the past few years, have made the distance from here to my mom in Texas feel so much further than the map says.
I remember sitting next to my mom in church as a child; she was holding my hand and running her fingertips around the edges of my fingernails. It's something that I have unconsciously done for years, and now I know why–the feeling of peace and security that it brings me from this memory is very comforting. I notice now, that I do this all the time–and it makes me smile and feel a little closer to Texas.
Friend or Mother
A memory that frequently haunts me is from my 20's. My mom and I have always had similar interests, likes and tastes; but at that time I was growing up and moving away from the nest. I think in an effort to stay close to me, mom said that she thought we should become friends–instead of being mother and daughter.
Without missing a beat, I said "oh, no I don't want us to be friends." Yeah…really. I did say those words. I tried to explain what I really meant; but I don't think she heard me (can you blame her?).
My mother and I are very much alike; a lot of the same interests in a wide variety of activities, books, shopping, museums, travel and more. We've made plans and done things together that none of my friends would even be remotely interested in; and I love doing them with her. But as much as this sounds like a friendship, I want and need her to be my mother.
Mother and Friend
I've lived with the guilt of those words, of that hurt i may have caused, for a lot of years. But it has taught me that I really did mean what I said–not in that mean, selfish way that it sounds here though. As long as I've had my mother, I haven't had to work to find special friends who are interested in museums, or old bookstores; in visiting smelly little antique shops or taking care of strays of all kinds.
She's been there for me, to do all of those things; and to understand when I do them on my own because not many of my friends can, or want to. Those are just some of the many links that she and I share.
Family
I don't know if my mom even remembers that little conversation; in all of our conversations, letters and phone calls it was only one small exchange. But it has been at the back of my mind off and on ever since it happened. I know my mother knows I love her; but I wanted to let her know here in this public and forever forum, that she has been more than any friend could be to me, that she has supported my dreams and hopes, been there in person and in spirit–so much more than a friend. Because of her, I've been able to walk away from people who I thought were friends (who were hurting me) and find real and true friends to fill my life.
No one can replace family; be it blood or self-created–family will support you through thick and thin; sometimes a friend can become your family too. In either case, when they are ill or hurt, threatened in any way–you want to support them, to give them more than just your love, to give them everything you can to keep them with you. And sometimes there's nothing anyone can do to help, except to be there and hold their hand, listen and love them.
So here is my hand, holding it out to mom; sending out virtual hugs every chance I get to let her know I love her and am sending her good thoughts, strength and more with every breath.