Ann About Town received a gift card in order to try Del Taco's new avocado menu items. All opinions and photographs are my own; please do not use photos without my permission.
I've professed my love for Del Taco before, and yes I'm about to do it again. Although I've cut down on my fast food intake, it's always nice to go out to lunch for a quick bite with my colleagues now and then.
And while we all love a good burger, it's always nice to have a little (or a lot) of variety at mealtime. For me, this is where Del Taco comes in–making everything to order, with fresh ingredients including cheddar cheese grated from 40-pound blocks, handmade pico de gallo salsa, lard-free beans slow-cooked from scratch, and marinated chicken grilled in the restaurant.
Talk about win-win! Talk about UnFreshing Believable®!
What's New at Del Taco?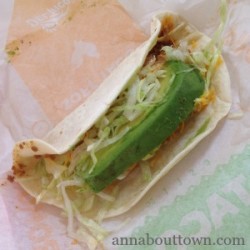 In their continued commitment to deliver fresh, quality and delicious ingredients, Del Taco has joined with the California Avocado Commission. Now we can enjoy the new Epic Grilled Chicken Avocado Burrito–loaded with six fresh slices of Hass avocado, freshly grilled chicken, handmade pico de gallo, fresca lime rice, seasoned black beans and salsa casera wrapped in a warm flour tortilla; or add one to three slices of fresh Haas avocado to any existing menu item.
Plus if you go here, you can find out what specials and deals are available at Del Taco (coupons and specials).
Enter to win
If you'd like the chance to win a gift card for Del Taco, just enter the Rafflecopter contest below. Good Luck!